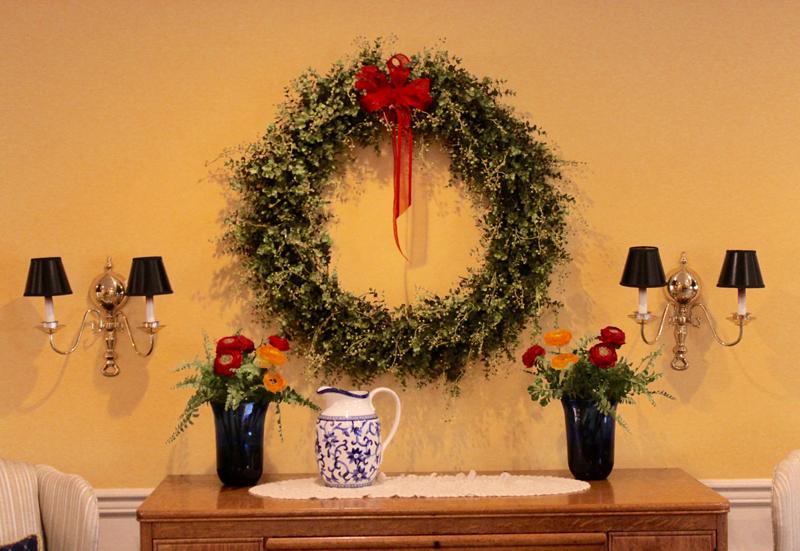 Choose your life style! Ivy Gables has a feel of a French country bed and breakfast. When you choose Ivy Gables you are choosing a Life style! Our beautiful grounds provide opportunities to explore and learn about nature year round, from wonders of blooming flowers to the formation of icicles! Our great room offers opportunities to spend family time with YOUR family or our Ivy Gables family, while chatting, or enjoying entrainment at happy hour.
For those who understand the importance of exercise, our multi-purpose room is used for daily exercise at many different impact levels, while others enjoy the walking paths through the gardens! Blossoms, is a full service salon keeping everyone here "Simply gorgeous!" After selecting the finest and freshest ingredients, our chefs prepare them to perfection and serve them in our beautiful dining room in the most delightful way.
But the heart of the life style happens within our Arts and Entertainment department…
Arts and Entertainment provides "Energy for Body, Mind, and Soul"
It is a vital program of activities that stimulates residents cognitively, culturally, creatively, psychologically, spiritually, and physically and promotes individual and group pleasure and social interaction. It all starts with a monthly calendar that outlines fun, exciting, and engaging activities --- okay a calendar is a calendar but when you put it together with talented, passionate and energizing staff, it becomes a daily delight for our residents. Our staff delivers specialized activities for all of the Ivy Gables lifestyles.
Arts and Entertainment offer daily activities, such as:
Exercise class
Current events
Walking club
Education seminars linked to arts and crafts projects
Mind simulating activities, and
Cocktail hour 2 times a week with live entertainment
Weekly, Arts and Entertainment offers:
Shopping at local vendors
Cooking class that includes a chef demonstration
Regular church services
Bible study
Dining out at local restaurants
Movies in our multi-purpose room
They also arrange very special monthly extras activates as well, including:
Ice cream runs
Mystery trips – they never know where they going!
Trips to the casino
Themed events that start with educational seminar, music, dance, arts and craft, and end with a very special dinner
Concert in the Park series, held here at Ivy Gables that feature, classical music, big band, 30's, 40's and 50's, and the standards…
Country rides – through the 4 seasons
Shows shown at the Candlelight Theater